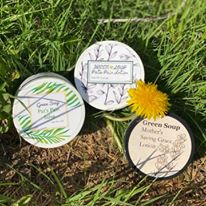 Healing damaged skin from a recent injury or medical procedure?  Want to revitalize your weather-damaged skin?  Are your hands dry and cracked from harsh soaps and hand sanitizers?  Our Mother's Saving Grace CBD Salve supports faster rejuvenation of damaged skin and provides your body a natural defense against infection.  
We combined our CBD with other herbal remedies that heal and moisturize the skin, clear rashes, fight infection, dry out poison, relieve itching, reduce inflammation, minimize scarring, soothe burns and remove blemishes from the skin.   
You can apply it to wounds and problem areas as often as needed.
| | |
| --- | --- |
| CBD Content | 500 mg |
| Ingredients | Infused Grapeseed Oil ( Grapeseed oil,  Comfrey Leaf [Symphytum uplandicum], Plantain Leaf [Plantago Ianceolata], Calendula Flower [Calendula Officinalis], Yarrow Flower [Achillea Millefolium], Rosemary Leaf [ Rosmarinus Officinalis], Echinacea Root & Herb [Echinacea purpurea], Infused Coconut Oil (THC & CBD Cannabis), Bees Wax, Emulsifying Wax, Mango Butter [Mangifera indica], Shea Butter [Vitellaria paradoxa], Vitamin E, Phenonip, Clove Bud.{100% pure Eugenia caryophylus}, Lemon {Citrus limon}, Cinnamon Leaf {Cinnamomum zeylanicum leaf}, Eucalyptus {Eucalyptus globulus}, Rosemary {Rosmarinus officinalis} Essential Oil, Wintergreen {100% Pure Goultheria procumbens}, Nutmeg {Myisitica fragrant kernel oil}, Eucalyptus {Eucalyptus globulus}, Tumeric {Curcuma longa root oil}, Ginger {Zingiber officinales root oil}, Black Pepper {Piper nigrum seed oil}, Peppermint {Mentha piperita} Essential Oil, Tea Tree Essential Oil |