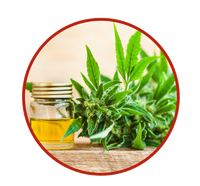 Cannabis Care You Can Trust
Green Soup's dreams and passions are centered around you!  We strive to provide you with high-quality natural products to aid in combating common ailments, mental health symptoms and relief from chronic diseases.  The products we sell are made with the highest quality cannabis from reputable distributers.  
Our mission is to provide relief and relaxation to our clients through high-quality, naturally healing products hand-crafted in small batches.  Green Soup is driven by our need to provide your family and friends affordable quality products that bring them relief from both physical and mental pain.  We stand behind these products because we know they work! 
There may have been brands that came before us, but none of them will provide the quality client centered care that we do!   
I love the THC infused honey! I struggle with anxiety and a cup of tea with this honey always calms and relaxes me.

K. Edgerly
I am a big fan of your salves. They have been crucial in healing my leg.

S. Keen
I struggle with restless-leg syndrome and I find one 10 mg gummy and 1 tsp of THCA & CBD MCT oil dose before bed allows me to sleep the whole night thru. No more pharmaceuticals needed.

D. O'Connor